Staff and their Pets
Elly Pittaway BVSc MRCVS – Veterinary Surgeon and Company Director
I grew-up just a stone's-throw away from Roy Hands' first practice, and showed an affinity with animals from an early age. By the time I was 8 years old, I had already brought home the ageing school hamster, a lonely goldfish left at the fair, a stray cat, and a horde of stick insects a friend had become bored of! My destiny to be a vet was clear, and gerbils, chinchillas, more cats and dogs soon followed. I trained at Liverpool Vet School, and on graduation went to work for the charity PDSA, before joining Roger Hands at Broad Lane in 2001. My long-suffering boyfriend Jerome, was soon joined by rescue-Labrador Max, and later Lab-cross Sally (found abandoned in a bush in the snow). Our hairy-children currently comprise rescue-cat Freddie (Krueger), along with reject Guide Dogs Stumpy (who has short legs) and Lenny (very long legs)! In 2008, my passion for my work led me to take the reins from Roy's son, Roger Hands, who still works at Broad Lane Vets. And so - unlike many local vets - the practice remains family-run and independent, our aim being to treat all pets as one of the family.
---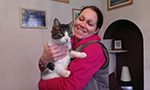 Kerry Williams BVMS MRCVS– Veterinary Surgeon and Clinical Coach
I joined Broad Lane vets in 2001, after qualifying as a vet in 1999. I have wanted to be a vet ever since I was 10 - and I still love the variety the job brings - there's definitely no such thing as a dull day in this job! My particular interest is surgery, particularly orthopaedics. When I'm not at work, I enjoy relaxing with my 2 naughty cats at home and getting out on my bike in the fresh air. "
---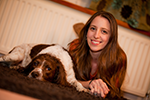 Alison White BVSc MRCVS – Veterinary Surgeon
I graduated from Liverpool University in 2008 and spent four years in a small mixed practice in Leicestershire before settling back into my home town of Coventry at Broad Lane Vets. I really enjoy the challenges of small animal practice and take a special interest in medicine cases.
I have a Springer Spaniel called Howie, and a recently adopted stray cat (yes, literally bringing my work home with me!) called Calico. My husband, Howie and I spend many hours enjoying muddy walks. Other than that my main interest outside of work is singing. I am a member of Tapestry Singers and enjoy a mix of traditional choral and more modern music.
---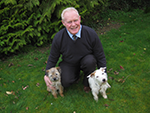 Roger Hands BVSc MRCVS – Veterinary Surgeon
My dad was a vet and started the practice in 1969. I had always gone on his rounds with him from primary school age. We moved into Broad Lane when I was ten years old. From then on I wanted to be a vet. I qualified from Liverpool University in 1983 and became a partner in Broad Lane Vets in 1988. Dad retired and I became the sole owner in the late 1990s. Elly took over the reins in 2008 but I stayed on as a part-time vet, and I have been a member of the team ever since. I enjoy looking after my patients and their owners.
I have had many pets over the years. A disobedient cross jack Russell, Esme, is the live wire who currently shares our home. We love her very much.
My hobbies include Rugby spectating, jazz, the theatre, art history and travelling.
This practice has been part of my life for as long as I remember. I cannot imagine working anywhere else. I still enjoy working with the team, who are my extended family. It is a pleasure to serve you and your pets.
---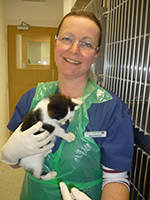 Alison McInnes BVSc MRCVS - Veterinary Surgeon
I wanted to become a vet from about age 11, after a couple of family holidays, staying on farms.
Broad Lane Vets has been a happy place to work – I joined over 15 years ago, and it feels like one big family. I now work part-time.
I have cats, rabbits and guinea pigs (but sadly no dog unless pet-sitting).
At home I enjoy partaking in various craft activities, with my daughter, and looking after my lovely garden.
---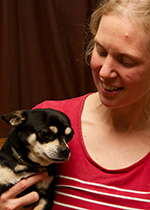 Marleen Weed MRCVS – Veterinary Surgeon
After 'assisting' with the birth of twin calves at my aunt's farm at the age of four, I decided I wanted to become a vet.
Having graduated from Utrecht University in the Netherlands in 2002, I decided to 'jump the pond' to the UK where I started working in a mixed veterinary practice in Warwickshire. I moved in 2008 to join a busy small animal practice in Leicestershire where I worked closely with a dog rescue centre.
After spending a year at Willows Referrals I moved to work with the great team that is Broad Lane Vets.
In an attempt to stay fit, I joined Warwick Boat Club and row at regattas in the Midlands and at Henley on Thames. Currently my approach to rowing is a bit more leisurely and I spend a fair amount of time coaching and coxing.
I now have a young family and have recently settled in my new home. Now I have added again to the family with a flock of chickens. Although I initially planned to work in England for a year before heading back home, I am still here and plan to stay having married a local lad!
---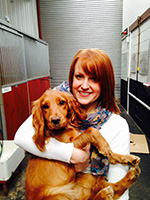 Katie Howell BVSc MRCVS – Veterinary Surgeon
From a very young age my ambition was to become a veterinary surgeon. Since graduating from the University of Liverpool in 2012, I have worked in a busy mixed practice in Worcestershire and have recently joined the team at Broad Lane. I love all the challenges of being a vet, and my particular interest lies in Small Animal Surgery.
Outside of work I enjoy travelling, horse riding and walking in the beautiful Warwickshire countryside. I also love cooking, especially baking cakes which friends and colleagues seem to enjoy as well!
Pets – oh yes my goldfish, and a naughty but adorable cocker spaniel dog.
---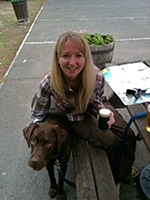 Emma Middleton BVSc, BSc, MRCVS – Veterinary Surgeon
I qualified as a vet in 2007 from Liverpool, already having gained a degree in Animal Science from Nottingham University in 2001. I wanted to be a vet just like James Herriot, and I quite fancied being a farm vet. How different things have turned out!
I'm a bit of a geek and love science and self- improvement. In my spare time I am a transformational coach, supporting people to reach their goals and make changes. I also try to practice mindfulness and meditation.
I love being in the great outdoors with my young family, who keep me very busy.
Why did I choose to work at Broad Lane Vets? As a family we've recently settled in the local area. The forward thinking attitude of this down to earth, community based veterinary practice attracted me. Once through the doors they were the friendly supportive team I had hoped for.
---
Nadine Smith - MVB, MRCVS – Veterinary Surgeon
I recently joined Broad Lane Vets after having spent many years working in East Anglia and a short stint in Reading. I graduated from University College Dublin in 2006, and came back to the UK after that.
I have always wanted to be a Vet; I remember watching James Herriot on TV with my Dad when I was a little girl.
My two cats, Riff Raff and Magenta, are my fur babies. They were hand reared by one of my previous nurses and so love a cuddle (and tuna!).
---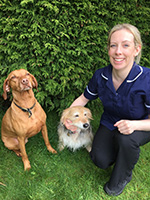 Katherine Linney - BVSc, RCVS Cert AVP, GP Cert (EM+S), Dip Veterinary Professional Studies, MRCVS – Veterinary Surgeon
From as long as I can remember animals and wildlife fascinated me. I grew up spending time on my grandparents' farm around horses and lots of other animals. I've never wanted to be anything but a vet; I still wouldn't want to do anything else.
I have 2 dogs Izzy, an eight year old Hungarian vizsla, and Scruffy, a fourteen year old Heinz 57 – an RSPCA cruelty case from my first job.
Why did I choose to work at Broad Lane Vets? Patient and client care are clearly a priority. Delivering a consistently high level of care is important to me. The practice is progressive, and rightly proud of its achievements.
---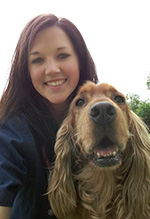 Aidin O'Sullivan - MVB, MRCVS – Veterinary Surgeon
There were always animals around when I was growing up; especially a loveable Irish Setter called Scuffy.
I love walking my excitable spaniel and he takes up most of my time. I also love playing the piano.
The friendly atmosphere, and the great reputation, when I came to interview made the decision to move here easy. I now live in the area with my boyfriend.
---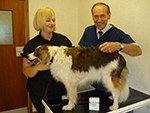 Richard Webb VetMB MRCVS CertAVP - Veterinary Surgeon and Veterinary Acupuncturist
I'm Richard Webb. I qualified as a Veterinary Surgeon, from Bristol, in 1966 and joined Broad Lane Vets in the 1970s. Whilst having great passion for surgery, my interests have always lay in using alternative medicine in conjunction with conventional medicines to improve health and happiness. This took me along the route of Veterinary Acupuncture. I am a practicing member of the Association of British Veterinary Acupuncturists. Following my retirement as a clinical veterinary surgeon I have continued at Broad Lane running acupuncture clinics.
---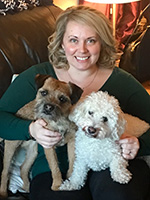 Laura Jordan BVetMed MRCVS - Veterinary Surgeon
My parents tell me I first said I wanted to be a vet when I was 3 or 4 years old. I never really considered doing anything else. Growing up there were always more animals than people in the house.
I qualified from The Royal Veterinary College, London, in 2008. Since qualifying I have worked solely in small animal practice in the Midlands area. My interests within the veterinary profession are varied, and I am always keen to keep learning.
Outside of work I enjoy spending time with my family, and my four legged friends. We have 2 fur-babies; a Bichon Frise called Dexter, and a Border Terrier called Wilson. In the last couple of years I have started to show Wilson, qualifying for Crufts in 2016 and again in 2017.
I chose Broad Lane Vets for their passionate, professional and family orientated approach to veterinary medicine. Patient care is always a priority here.
---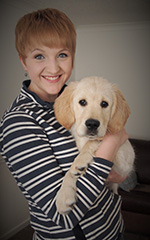 Hannah Barfield BVMS MRCVS - Veterinary Surgeon
For as long as I can remember I always wanted to be a vet. With a keen interest in medicine, and an unfailing love of animals, I could not imagine doing anything else.
I have a gorgeously naughty golden retriever puppy, Hugo, who had a great time at Broad Lane's puppy party and has now started his basic dog training.
And when I'm not at the practice I love the great outdoors; especially winter sports!
After many years of seeing practice during my university studies I could not wait to return to Broad Lane as a fully-fledged Veterinary Surgeon.
---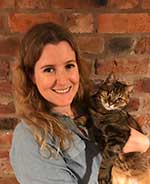 Patricia Jervis MRCVS - Veterinary Surgeon
I think I always wanted to be a vet. I would regularly ask my parents to foster pets, and even managed to adopt a few of them. My mother was not however impressed with the number of hamsters I took on! I now have 2 cats; Bia, the chilled old lady, and Pitanga, the naughty Bengal.
I love spending time being with friends and family. And I do love to travel. I chose to work at Broad Lane because of the friendly, family-like environment.
---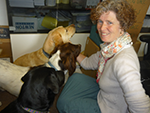 Lisa Madden RVN PHC – Practice Manager
Many years ago (no I'm not telling you how many) I did my Duke of Edinburgh Award service section at Broad Lane. I continued volunteering and have been here ever since! I progressed from a student nurse, to Head Nurse and on to become Practice Manager.
We have a fantastic team at Broad Lane and being a family run business the atmosphere offers a great place to work and develop. We have so many lovely clients, and meeting them with their pets guarantees no day is ever the same.
Outside of work I am busy with my 3 children, 2 talkative guinea pigs called Lara and Oreo and my hubby. I love crafting, reading and my greenhouse! As a family we enjoy camping and the outdoors. We are addicted to American Football; with all 3 children playing competitively for the Coventry Cougars.
---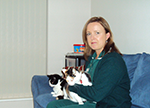 Sarah Kelly RVN PHC – Head Nurse
I began my working life here, at Broad Lane Vets, after leaving school at 16 and still work full time. Like Lisa, I have never worked anywhere else! I began on a YTS scheme (yes a certain generation will remember them!) and progressed to qualify as a registered veterinary nurse. I now work as head nurse but am still very clinical within the practice. I love meeting you with your pets, particularly during my consulting sessions and at our popular puppy parties.
I have 3 cats all rescues from the Cats Protection, adopted through strays brought into the surgery.
I love working in such a friendly environment, with great colleagues. I have a rewarding career, doing a job that I still enjoy.
I do enjoy a variety of hobbies but rarely have time these days as I am kept so busy with my young family!
---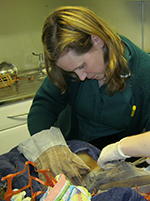 Karina Horton RVN PHC – Deputy Head Nurse
I joined Broad Lane Vets straight from school, heading to college to complete my Veterinary Nurse training, and am another member of the team who has been here for many years!
I work part-time now as I have a young family, and along with loving my general nursing I have an interest in stock management.
I love meeting you and your pets during my weekly clinics, and am always on-hand for any help or advice you may need.
---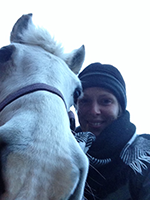 Marie Bucin RVN – Deputy Head Nurse and Clinical Coach
I am a registered veterinary nurse, especially interested in hospital nursing and anaesthesia, with a great love of training. I have now completed my clinical coach training and oversee the student nurses and animal nursing assistants within the practice.
When not caring for animals I try to find time for my numerous hobbies including ballroom and latin dancing, walking, surfing, art and travel.
---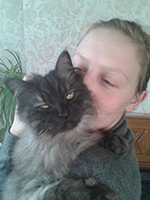 Bethany Barnes BSc RVN – Veterinary Nurse and Clinical Coach
I've been working in vets for many years now and have always had a passion for the profession. I decided veterinary nursing was the career for me, completed my training at Broad Lane Vets, and have been here ever since. I particularly enjoy surgical nursing. My passion for rabbits is developing into my own clinics – do come and see me. I regularly spend time in local schools giving career talks and teaching children about animal welfare.
As with most of our staff I have a number of second-hand pets; two rabbits called Denby and Dalton, my unique feline Finley and a garden of chickens!
Outside of work I'm actively involved in my church but also enjoy indoor and outdoor activities such as walking/cycling and reading.
---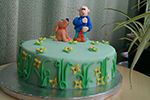 Sarah Richards RVN – Veterinary Nurse
I have worked at Broad Lane Vets as a Registered Veterinary Nurse since 2000. I am rather camera shy and hides from my adoring public. I particularly enjoy working in the practice laboratory and can often be found assisting with stock control. I have a cheeky dog called Bracket and several Giant Land Snails. In my spare time I love walking in the countryside, and baking and decorating cakes.
---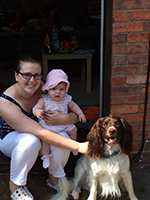 Heather Cathorne BSc RVN– Veterinary Nurse
I became a nurse as loved working with animals from young age. My parents used to say I got on better with animals than humans! After my A levels I decided to do BSc Hons Degree in Veterinary Nursing.
I love working at Broad Lane Vets as all the staff work 100% towards the best care and treatment of your pets. We work great as a team, and always try our hardest for each animal.
I have springer spaniel called Dodger, and two rescue cats Dee-Dee and Digby (who was a stray kitten rescued by staff at Broad Lane).
I now work part-time and spend most of my time away from work with my daughter enjoying days out with my dog. When I have 5 minutes to sit down a good book is always nice!
---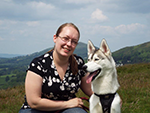 Justine Middleton RVN – Veterinary Nurse
I always knew I wanted to work with animals but enjoyed studying, particularly science. My mother is a nurse, so I grew up hearing about lots about medical and surgical work. Veterinary Nursing was the perfect fit.
In my spare-time I enjoy being creative; scrapbooking, drawing and sewing. I also enjoy salsa dancing, and am learning Italian.
I have a two year old husky, named Kobi, who loves playing with other dogs and taking long walks.
I like working at Broad Lane Vets as it is a family run business. This allows our focus to be on the greatest levels of individual care for your pets, and a more personal service to you.
---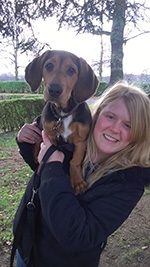 Hayley Carroll RVN – Veterinary Nurse
I've always wanted to work with animals since a young age so here I am. I have recently qualified as a registered veterinary nurse and am enjoying the challenges this brings.
I have a puppy called Ripley, 2 guinea pigs called spooks and Starbug, and an elderly cat, Gypsy. In my spare time I enjoy spending time with my pets, dog training and cycling
I enjoy being able to help animals and owners, and I love working with my colleagues at Broad Lane.
---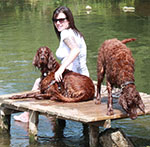 Natasha White FdSc RVN– Veterinary Nurse
I qualified as an RVN in 2005. I decided to become a VN due to my love of animals especially dogs and cats. I grew up with Irish setters, and they remain my best friends still today... I currently am owned by 4!
My parents always used Broad Lane Vets with our pets and it left a great impression on me and I was given the opportunity to work there to carry out my veterinary nursing training in 2003. I left in 2008 to work for Guide Dogs but returned in 2011 to work Sundays. Why? Because I love the practice and the staff.
---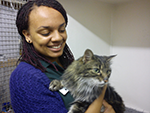 Chante Secondino RVN, BSc (hons) – Veterinary Nurse
I have loved animals from a young age and always knew I wanted to work with them. After work experience, I found veterinary nursing was best suited to me and after several years as Broad Lane's 'Saturday girl' I headed off to study at The Royal Veterinary College in London.
I have 3 pets: 2 guinea pigs Dobby and Spike and a cat called Pablo. As well as looking after my animals, I enjoy playing sport in my spare time such as netball and yoga, and also enjoy art/drawing- mainly animal drawings.
Working at Broad Lane is great as there is a good 'family feeling'. I started out as a young work experience girl and am now back as a Registered Veterinary Nurse.
---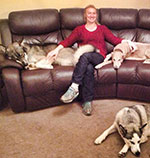 Karen Alcock RVN – Veterinary Nurse
I'd always had a fascination for animals from as far back as I can remember and so the only career path in mind was a veterinary nurse.
You will find me working at the practice most Sundays', consulting and looking after our in-patients.
The atmosphere at Broad Lane has always been one of the geatest things about the practice, there is a real air of teamwork and the pets always come first.
I have a bit of a menagerie; aviary birds, chickens, pheasants, ducks, a harris hawk, bearded dragons, pond fish and 4 dogs - a rescue Labrador, a German Shepherd Dog, a Husky and a rescue Tamskan Dog. All of which are, of course, a huge commitment and take up all my spare time but they are very rewarding.
Out of work hobbies include falconry, swimming and dry-land mushing or 'Bike Jor' with my dogs.
---
Samantha Malone RVN – Veterinary Nurse and Clinical Coach

From a very young age I have had a passion for animals and after starting school, it became clear that I enjoyed science too! This led me towards a career in veterinary science. I chose the veterinary nursing route, as I love to care and support the animals and the versatile nature of the role attracted me. The opportunities are endless!
I currently do not have any pets, after losing our family dog, George the Westie. My fiancé and I would love to have three dogs in the future, a black Labrador, a Hungarian Vizsla and a German Wire Haired Pointer , plus maybe a few chickens, a pig …perhaps after winning the lottery!
I enjoy helping to look after the "in law's" dog Baxter (Westie cross Jack Russell) who is adorable and has had a few trips to Broad Lane himself!
I enjoy cooking and baking (and eating in general!), I like to balance this out with running and have participated in the Winter Wolf Run last year which was so much fun!
I also have a keen interest in travelling and have recently visited Sri Lanka where I worked with elephants, which was an incredible experience.
Broad Lane Vets is a lovely place to work, there is a great team spirit and very much a family atmosphere. This reflects the ethos to treat each patient "as one of the family". This is particularly important to me as a veterinary nurse, as I take enjoyment of caring for animals individually, respecting their unique characters, temperaments and needs.
---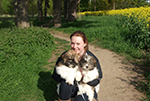 Katharine Keegan RVN – Veterinary Nurse
Finally I have the opportunity to do my dream job. I want to become a vet nurse because along with working with animals on a daily basis and of course being able to help them, it is such a wide ranging career where further training can be undertaken meaning you can keep on learning and developing new skills and areas of interest once trained.
The best parts of working at Broad Lane are the staff and clients (and of course their pets), who have all been supportive of me in my new role as a Student vet nurse.
I have a cat called Milo, three Lhasa Apso's called Theo, Rosie and Grace and a naughty Netherland Dwarf Rabbit named Henry.
I have been showing my dogs for nearly nine years now, I am currently only showing my youngest Grace, although showing is having to take a back seat whilst I concentrate on my training and course.
---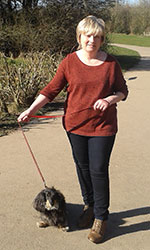 Christine Lowe SQP – Head Receptionist
I have been a receptionist at Broad Lane now for many years. I joined the team after a career as a nurse in the NHS. I have completed an NVQ level 2 in customer care and more recently my SQP training. There is never a dull moment on Broad Lane's reception. Each day is so different and challenging. I can be found armed with schmackos, my secret weapon in making friends with all your dogs!
As a cat owner I am proud of our Cat Friendly status, and our popular cat only clinics that we hold on a Wednesday at our main surgery in Broad Lane.
I have a menagerie of pets at home with cats, rabbits and a cheeky dachshund called Minxy.
---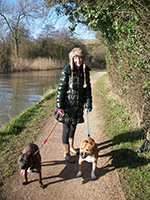 Fiona McAllister SQP – Receptionist
Hi, my name is Fiona, though everyone calls me Flo (don't ask why) and I have worked at Broad Lane Vets as a receptionist for several years now. I have completed an NVQ level 2 in customer care and my SQP training. As you can imagine it can get quite hectic at times but that's what makes it more enjoyable as well as challenging, sad and exciting, its like no other job I've known. I love getting to know the pets and their owners and can very often be found dishing out the schmacko's in the waiting room though shhss don't tell the boss.
When I'm not at work fussing dogs I am at home with my own two. I have two Staffies called Bilko and Tilly who are now in their twilight years, they're an old couple but they have no plans to calm down just yet. They have both been a bit unwell of late but thanks to the great vets and nurses at Broad Lane they are back on the mend and acting like pups again, especially Tilly who is quite a character, a bit naughty but in a nice way. I've had both dogs since they were pups and here's hoping I get a few more years to enjoy their love and companionship as well as their antics, well you gotta love em!
---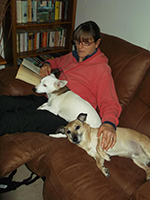 Susan Walsh – Receptionist
I'm Sue and I split my time between our Balsall Common Surgery and the upstairs office at Broad Lane. I enjoy the variety that I have between working on reception and day to day practice administration. Here I am with my two horrors Bisto and Scooby. As for me, apart from walking and generally being around these two I love playing hockey and tennis, riding and doing my garden.
What do I like about my job? Well, what can I say, love being around animals and am very lucky to be working with a great bunch of people - never worked anywhere with so many staff and yet such a good atmosphere - a real team.
---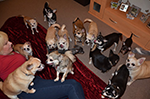 Andrea Wolstencroft – Receptionist
I enjoy working with people and love animals so working for BL made sense, and is just like one big family. You will usually meet me at our Radford Road Surgery.
Outside work, I enjoy dog grooming and am owned by lots of four legged, and some feathered, friends - Never a dull moment.
---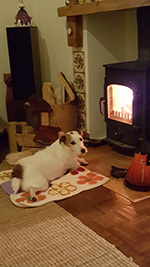 Fay Roe - Receptionist
I chose a veterinary career later on in life...... as I was losing myself in the 'corporate' world and wanted a job which I would be satisfied doing each day and animal welfare is high on my priority list.
I have a 6 year old Parsons Jack, called Lyla, who is my world.
I enjoy walking and being with my dog, exploring new places and watching Rugby League - I try and venture up the motorway as much as I can to watch the live games!
I wanted to work in a 'non corporate' practice, family run, as there is a huge difference! The staff at Broad Lane Vets are very committed to their roles, and are lovely to work with.
---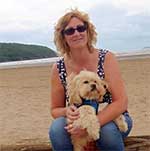 Jo Welsby RVN - Receptionist
Having wanted to work with animals from a young age I trained, and qualified, as a Registered Veterinary Nurse. Over the past twenty years I have held many other animal related jobs, including working for several charities and in veterinary sales. These days I prefer a less physical role, so work on reception.
My friends think of me as the stereotypical 'crazy cat lady', having had a house full of cats over the years. Currently I have a Cyprus rescue dog, called Henri Bear, who came to live with me in the UK IN 2009.
I spend much of my spare time volunteering and fundraising for Happyfields Animal Sanctuary in Birmingham, and a Cyprus cat neutering project, so am kept busy event organising. I enjoy foreign travel, and regular trips to the seaside with my dog. I also practice Reiki.
Why Broad Lane Vets? I was looking to join a non-corporate practice which would allow me to work part-time hours. Broad Lane offered me both. Since joining the team I have been impressed with what a close-knit friendly team they are.
---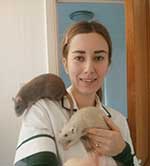 Charlotte McNicholas - Receptionist
I have had many jobs over the years, however after volunteering at a greyhound rescue a while ago I realised working with animals was the role for me. With my previous customer care experience veterinary reception was a great fit for me.
After saying I would never have a pet rabbit, what did I end up with… A pet rabbit, of course! Levi, as he is now called, was a stray brought into Broad Lane. He is a little rascal with bags of personality; a friendly man loving lots of fuss. He has his own room, and is certainly ruling the house.
I have been taking photographs since my college years and still love venturing out with my camera. I especially love photographing landscape and nature.
My husband and I are big fans of Star Wars and Lord Of The Rings. We love watching films and playing boardgames.
Having worked for a large chain of veterinary practices previously I love the family environment of Broad Lane. Everyone knows each other a pulls together as a team.
---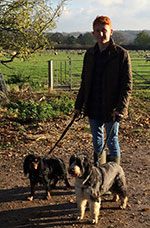 Connor Wilkins RVN - Veterinary Nurse
I joined Broad Lane Vets from a practice in Stratford. I have recently qualified as a Registered Veterinary Nurse and have gained 'my greens'. I spent my childhood around animals, and so the natural progression was to work with them. I enjoy being part of a team, and love the challenges veterinary practice throws at you.
In my spare time I enjoy swimming, watching films and walking.
I have a menagerie of pets at home; a Cavalier King Charles Spaniel called "Oscar", "Pippin", a Bearded Collie Cross, a cat called "Lola" and a Bearded Dragon, "Spike".
Broad Lane has made me feel really welcome. They are such a friendly team. Being such a busy practice I have had so many new experiences, and look forward to meeting you and your family.
---
Fiona Nicholls - Student Veterinary Nurse
I knew from a young age that working with animals was inevitable. Having worked as a Veterinary Care Assistant for almost 6 years I finally found the courage to chase a career in Veterinary Nursing. I love the challenges and variety the role brings, and of course meeting new furry friends and their owners.
I share my home with 2 forever hungry Labradors, Anna and Evie, and 6 cats, 4 of which were hand-reared, named Archie, Ernie, Harvey, Dougie, Macie and Martha.
During my free time I enjoy catching up with friends, walking my dogs and spending time with family.
Having carried out my work experience at Broad Lane Vets many moons ago I remembered the friendly, family atmosphere and l knew it would be somewhere I could feel at home.
---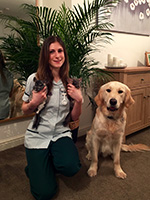 Sophie Rayner BSc (hons) - Student Veterinary Nurse
I've always loved animals, and after studying Zoology at University I decided I wanted to become a Veterinary Nurse. Whilst growing up I rehabilitated wildlife at a local rescue centre, and from here my love of small animals grew.
I've a menagerie of pets at home. Loki, my golden retriever, joins me at work most days and is one of the many staff dogs who visit the practice daily. I also have 2 chinchillas; Milo and Pip, and 3 cats; George, Twiglet and Charlie.
In my spare time I enjoy horse-riding and scuba diving.
Broad Lane Vets has a lovely family feel. I was recommended to work here by an ex- colleague, who had had a great experience with the practice. Broad Lane is a veterinary nurse training practice, with an excellent reputation and high pass rate for students.
---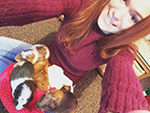 Natasha Haggart – Student Nurse
I have a keen interest in anatomy and physiology and ever since I was young have desired a career in caring for animals. Veterinary care is very rewarding and every day is filled with new challenges.
I have 5 Guinea pigs: George, Genie, Jasmine, Minnie and Harley.
I like linking my love and interest of animals into my favourite hobbies which include photography and artwork.
Broad Lane Vets has given me the opportunity to work for a family run business where everyone looks out for each other. They are always there to offer support for day to day tasks and further education. I am very happy to be part of the team!
---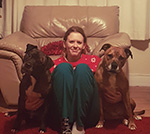 Sophia Johnston - Student Veterinary Nurse
I always wanted to work at a vets. Whilst doing my level 3 animal management at college I did a long-term placement at a local practice. This confirmed veterinary nursing was my career path.
I own 2 dogs, Roxy and Diesel, who were rescued as puppies.
Meeting old college friends, shopping and spending time away with my fiancé are my favourite pass times. I enjoy swimming, the gym and long country walks with the family.
Why Broad Lane? The team is a great bunch of friendly people, who are passionate about animals. I love the fact that it is a family run business, not a corporate; with all of the staff working here have a real interest in providing an individual service with empathy and care.
---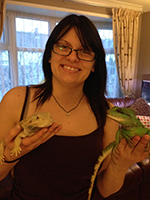 Heidi Clifton SQP – Auxillary Nurse
Hi I'm Heidi and work at Broad Lane an Auxillary Nurse and SQP. I have a Bearded Dragon, Merlin, and Archimedes, a Chinese Water Dragon. Merlin enjoys running around the house chasing after the cat, whereas Archimedes prefers to spend his days on the top of my curtains keeping watch. Chris, our receptionist, says I need to get rid of them to get myself a man. My mum doesn't enjoy having them in the house because of the 100+ locust I have to buy for them every other week. I couldn't imagine life without my lizards. I've recently gained another slightly larger pet. He's a horse called Merlin!
I love meeting our wonderful clients, with their pets, and am often found on reception. I have a particular interest in pharmacy and am currently undertaking my avian SQP training.
---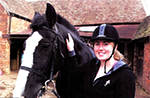 Lucy Smith – Auxillary Nurse
Since a young age I dreamed of working with animals. After carrying out a college placement at Broad Lane Vets I qualified as an animal Nursing Assistant, and joined Broad Lane Vets full time. I am currently working towards my SQP qualification.
When I am not spending time with my German Wire Haired Pointer, Moose, I love horse-riding, playing hockey, reading and baking cakes (not very well!).
I love the working atmosphere at Broad Lane Vets, and how everyone looks out for each other. And I love that every day is so different from the last.
---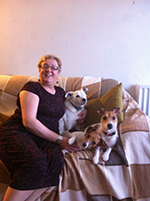 Lesley Whitehead – Admin Assistant
I had a rather unusual path into working at Broad lane Vets. I had had time off from work and was looking for a part-time job. My daughter Dawn, who is a nurse at the practice, mentioned they were looking for an admin assistant and I thought why not! My history was in admin roles. The family has always had lots of pets. We currently have three dogs - one eyed George, Sally and our newest member, Ruby. We also have two ponies – Fury and Izzy. Having two ponies you can imagine there is no time for other hobbies. I do however enjoy going for long walks and eating out. What do I like most about Broad Lane? It's the welcoming atmosphere, and the variety of work. You never know what will come next through our front door, and two days are never the same.