Introducing Our Practice Team
Everyone at our practice is committed to providing you with the very best in pet healthcare. Our veterinary team bring a wealth of experience to the practice and have individually obtained high standards of professional qualification.
Click on the links below to jump to the section of the team you are interested in viewing.
Veterinary Surgeons
Veterinary Nurses
Support Team
Reception Team
Auxillary Team
---
Veterinary Surgeons
Elly Pittaway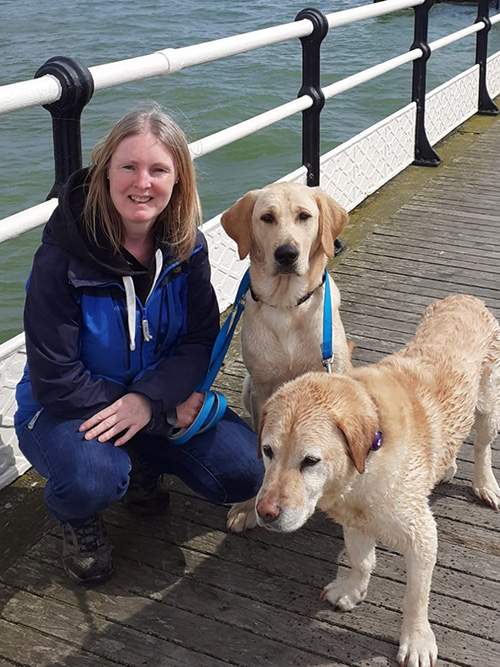 Veterinary Surgeon and Company Director
BVSc MRCVS
I grew-up just a stone's-throw away from Roy Hands' first practice and showed an affinity with animals from an early age. By the time I was 8 years old, I had already brought home the ageing school hamster, a lonely goldfish left at the fair, a stray cat, and a horde of stick insects a friend had become bored of! My destiny to be a vet was clear, and gerbils, chinchillas, more cats and dogs soon followed. I trained at Liverpool Vet School, and on graduation went to work for the charity PDSA, before joining Roger Hands at Broad Lane in 2001.
My long-suffering boyfriend Jerome, was soon joined by rescue-cat Freddie (Krueger) and rescue-Labrador Max. Later, they were joined by Lab-cross Sally (found abandoned in a bush in the snow) and then reject Guide Dog, Stumpy, a yellow Lab born with dwarfism. His companion of 8 years, "special Len", was also a reject Guide Dog, being a beautiful black Lab with a remarkably small brain! Our hairy children currently comprise Stumpy with his little legs, Taggle the naughty Lab x Hound with ridiculously long legs, and Edward the cat. In 2008, my passion for the practice led me to take the reins from Roy's son, Roger Hands, then in 2021, Aidin and Ali joined me as Partners. Unlike many local vets, which have sold-up to large Corporate chains, the practice remains firmly independent. We have grown a lot over the years, and now have a large team of highly-trained vet professionals along with all the latest equipment and facilities, but we retain a family ethos at the heart of everything we do, and always aim to treat each pet we see as one of the family.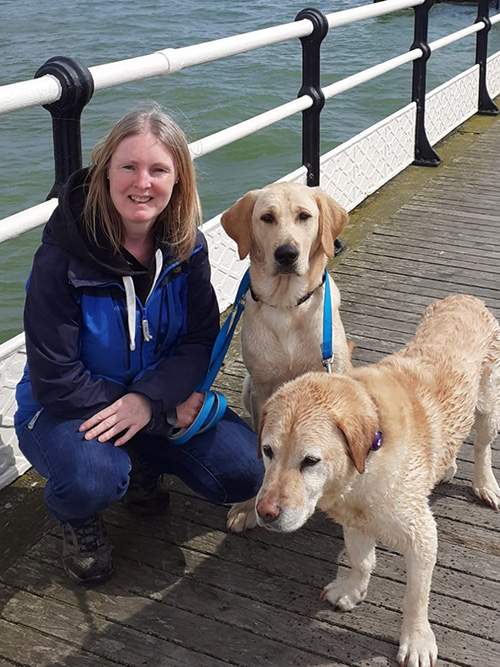 Alison White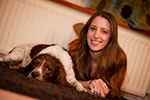 Veterinary Surgeon and Company Director
BVSc MRCVS
I graduated from Liverpool University in 2008 and spent four small years in a small mixed practice in Leicestershire before settling back into my home town of Coventry at Broad Lane Vets. I really enjoy the challenges of small animal practice and take a special interest in medicine cases.
I have a Springer Spaniel called Howie and a cat called Calico. Thankfully they both adapted well to the addition of my son Zachary. Outside of work, I love finding new outdoor spaces to enjoy with the family.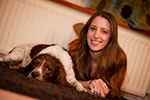 Aidín Walls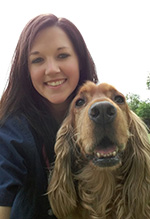 Veterinary Surgeon and Company Director
MVB, MRCVS
There were always animals around when I was growing up; especially a loveable Irish Setter called Scruffy.
I enjoy dog walks with my dog Otto (and occasionally my cat!). I also love playing the piano to relax.
I enjoy all aspects of veterinary but particularly love surgery and love working with the Broad Lane team.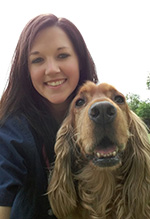 Kerry Williams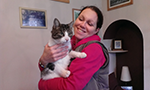 Veterinary Surgeon
BVMS MRCVS
I joined Broad Lane vets in 2001, after qualifying as a vet in 1999. I have wanted to be a vet ever since I was 10 - and I still love the variety the job brings - there's definitely no such thing as a dull day in this job! My particular interest is surgery, particularly orthopaedics. 
I now share my time between working at Broad Lane and teaching the next generation of vets at Nottingham University.  
When I'm not at work, I enjoy relaxing with my 2 naughty cats at home and getting out on my bike in the fresh air.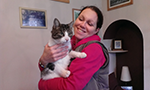 Alison McInnes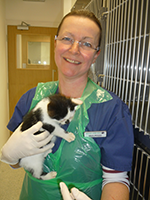 Veterinary Surgeon
BVSc MRCVS
I wanted to become a vet from about age 11, after a couple of family holidays, staying on farms.
Broad Lane Vets has been a happy place to work – I joined over 15 years ago, and it feels like one big family. I now work part-time.
I have cats, rabbits and guinea pigs (but sadly no dog unless pet-sitting).
At home I enjoy partaking in various craft activities, with my daughter, and looking after my lovely garden.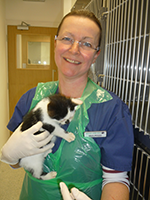 Nadine Smith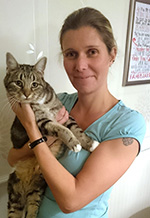 Veterinary Surgeon
MVB, PgC, MRCVS
I joined the Broad Lane Vets team in 2015, and quickly became part of the ever-growing family.
My particular area of interest is Feline Medicine, especially feline welfare and behaviour.
I completed my General Practitioner Certificate in Feline Practice (GPCert FelP) in 2018, and have now completed my Postgraduate Certificate in Feline Veterinary Studies in 2020.
I am also involved in supporting and training our junior vets.
My spare time is spent travelling, and attending music gigs and festivals.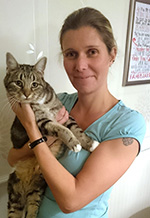 Patricia Jervis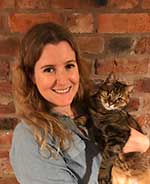 Veterinary Surgeon
MRCVS
I think I always wanted to be a vet. I would regularly ask my parents to foster pets, and even managed to adopt a few of them. My mother was not however impressed with the number of hamsters I took on! I now have 2 cats; Bia, the chilled old lady, and Pitanga, the naughty Bengal.
I love spending time being with friends and family. And I do love to travel. I chose to work at Broad Lane because of the friendly, family-like environment.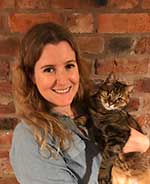 Samantha Kent
Veterinary Surgeon
BVSc PgC(SADI) MRCVS
I always wanted to work with animals and people (yes every pet has an owner). After a motivating work experience placement I knew it was the path I wished to follow.
We have two rescue additions to our family – a crossbreed called Bracken and a cat, Herbie.
My time is mostly taken up being a mummy these days. However in my spare time I do enjoy playing tennis, photography and visiting the theatre.
Broad Lane has a reputation for being a lovely place to work. I wanted to work in a practice that is progressive, with excellent clinical care and a great team of staff. I have found all that here at Broad Lane, and am excited to have joined the BL family.
Laura Blackburn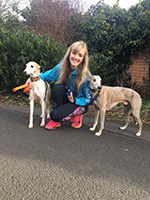 Veterinary Surgeon
BVetMed MRCVS
I have wanted to be a vet for as long as I can remember. I have always grown up around animals and always wanted a career working with them. Our pets are part of our families and being able to work with clients and their animals is such a privilege.
I graduated in 2016 from the Royal Veterinary College and have worked in a small animal practice since graduating. After finding my feet, and gaining experience, I really enjoy working at Broad Lane; an independent practice with a fantastic reputation and a friendly, experienced team.
After moving to a flat where animals are not allowed (boo!) I love going back home and walking our two family whippets, and spend most of my free time riding my horse Saracen.
A new hobby I have also found is aerial arts; nothing like hanging upside down after a busy day a work.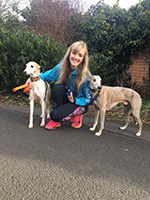 Chloe Willemsen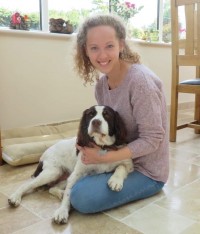 Veterinary Surgeon
BVSc MRCVS
Growing up in a medical family, I knew from an early age I wanted a career helping other people. Veterinary allows me to do this and combine my love of small furries!
I had the privilege of living with a gorgeous springer spaniel Meg during my last few years at university, and since starting at Broad Lane I have acquired two very special guinea pigs, Hazel and Skitty.
Outside of work I enjoy keeping fit, spending time with family and friends, and being part of my church in Hillfields.
During my final year of studying, I spent a few weeks of placement at Broad Lane. I chose to work here because I was blown away by how friendly everyone was and how dedicated each member of the team is to caring for each patient.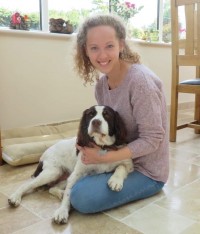 Simrath Dhillon
Veterinary Surgeon
BVSc, MRCVS
None of my family expected me to be a vet, they always thought it was a phase l'd grow out of, right before I moved on to the next thing (my mother secretly hoped I would be a dentist). Throughout my life my ambition to be the best vet I can has always stayed with me. Perhaps I was influenced by my neighbour's three legged cat, or maybe it was spending time at a young age, on a family friend's farm, that did the trick.
I thoroughly enjoyed my student placements at Broad Lane. I love the mix of scientific knowledge, practical skills, client interactions and challenges that this profession brings.
Outside of work I enjoy relaxing at the end of a long day with my family, now I am back in the Midlands. This is really appreciated after 5 years away at university. I enjoy travelling, and hope to learn to snowboard and ski after Covid.
Madeleine Clarke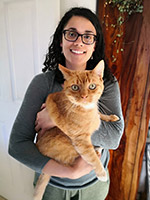 Veterinary Surgeon
BVSc MRCVS
I decided that I wanted to be a vet at a very young age and other than a brief period when I wanted to be a marine biologist, it's always been the job that I wanted.
Outside of work I enjoy cooking, catching up with friends and family and attempting to garden (fortunately I'm better with animals than plants!). I have one very spoilt cat called Enzo.
I graduated in 2011 from the University of Bristol and have worked in practices in Norfolk and Warwickshire before becoming part of the Broad Lane team.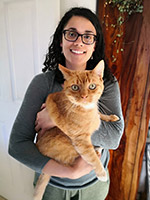 Maria McCarthy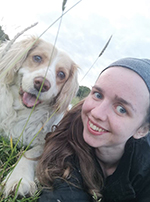 Veterinary Surgeon
MRCVS
I grew up around a variety of different animals and was constantly picking up strays, which naturally led me to wanting to be a vet. I graduated from Warsaw University of Life Science in 2021 and from there I developed an interest in small animal medicine.
Whenever I get the time, I enjoy taking a quick trip back to Ireland to see my two dogs, Roxy and Bruno, who are currently living with my parents.
I enjoy working at Broad Lane as it is an independent practice and treats everyone's pets as a member of the family.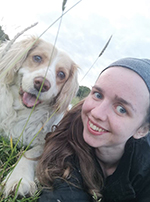 Jess Selvaraj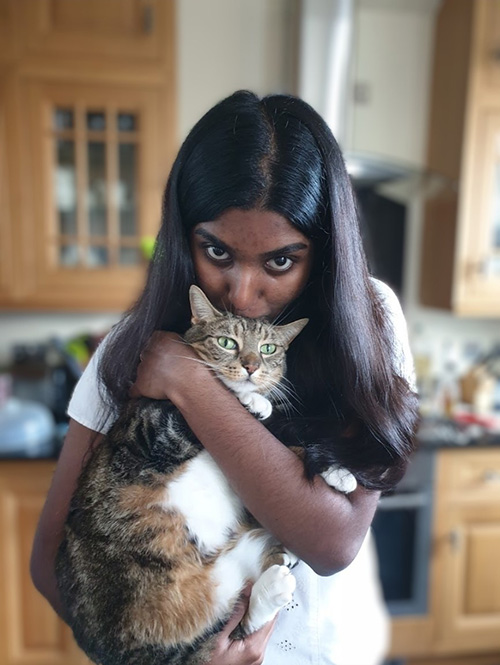 Veterinary Surgeon
MRCVS
I've always loved animals and enjoy working with people.
After graduating from the University Of Nottingham I knew I wanted a role working with small animals.
I have two cats, who are now middle aged.
I enjoy reading novels, gaming and spending quality time with my family and friends.
I came to Broad Lane Vets as a student, during my final year at university. I found the team to be lovely, supportive and friendly.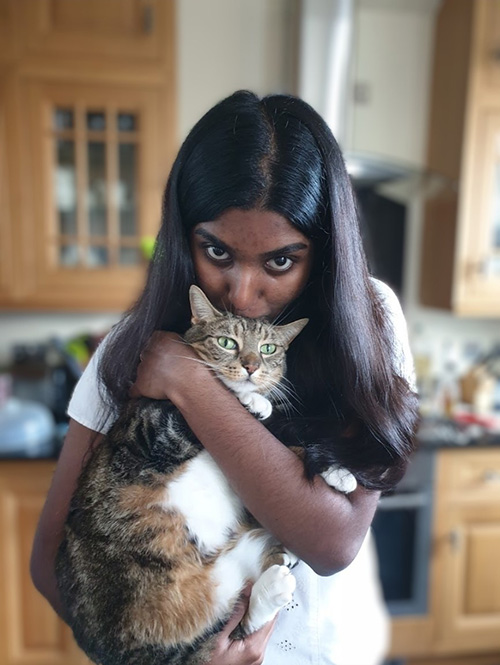 Katharine Gee
Veterinary Surgeon
BVSc MRCVS
I wanted to be a vet for as long as I can remember, I was obsessed with animals as a child and would always be looking to learn more about them.
I have a naughty tortie cat called Luna and slightly less naughty horse called Maisy, though they both keep me on my toes!
When not at work I can mostly be found at the yard with my horse, though I also enjoy baking, walking and skiing.
Broad Lane Vets has the clients and their pets at the heart of everything they do. Everyone who works here is lovely which makes for a great place to work and you always feel part of a team.
Rachel Godson
Veterinary Surgeon
BVM BVS MRCVS
I have always wanted to become a vet after having grown up with animals, therefore I wanted a career that allowed me to work with them!
Outside of work, I love going on walks with my Border Collie who is called Cody. I also enjoy going swimming, and spending time with friends and family.
I chose Broad Lane Vets as I completed a placement here during my final year at university, which I loved due to how friendly and supportive everyone was.
Veterinary Nurses
Bethany Barnes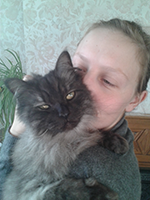 Nurse Manager and Senior Clinical Coach
BSc RVN
I've been working in the vets for many years now and have always had a passion for the profession. I decided veterinary nursing was the career for me, completed my training at Broad Lane Vets, and have been here ever since. I particularly enjoy surgical nursing. My passion for rabbits is developing into my own clinics – do come and see me. With colleagues I have recently gained the practice RWAF Silver status (rabbit friendly vets). I regularly spend time in local schools giving career talks and teaching children about animal welfare.
As with most of our staff over the years I have acquired a number of second-hand pets. Currently I have my unique feline Finley and a garden of chickens.
Outside of work I'm actively involved in my church but also enjoy indoor and outdoor activities such as walking/cycling and reading.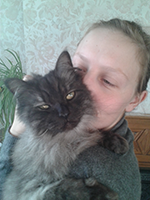 Samantha Malone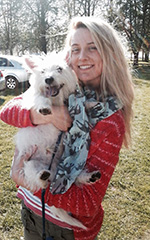 Nurse Manager and Clinical Coach
RVN
From a very young age I have had a passion for animals and after starting school, it became clear that I enjoyed science too! This led me towards a career in veterinary science. I chose the veterinary nursing route, as I love to care and support the animals and the versatile nature of the role attracted me. The opportunities are endless!
I currently do not have any pets, after losing family dog, George the Westie. My husband and I would love to have three dogs in the future, a black Labrador, a Hungarian Vizsla and a German Wire Haired Pointer, plus maybe a few chickens, a pig… perhaps after winning the lottery!
I enjoy helping to look after the "in laws" dog Baxter (Westie cross Jack Russell) who is adorable and has a few trips to Broad Lane himself!
I enjoy cooking and baking (and eating in general), I like to balance this out with running and have participated in the Winter Wolf Run last year which was so much fun!
I also have a keen interest in travelling and have recently visited Sri Lanka where I worked with elephants, which was an incredible experience.
Broad Lane Vets is a lovely place to work, there is a great team spirit and a very much a family atmosphere. This reflects the ethos to treat each patient "as one of the family". This is particularly important to me as a veterinary nurse, as I take enjoyment of caring for animals individually, respecting their unique characters, temperaments and needs.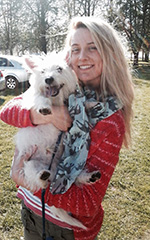 Heather Cathorne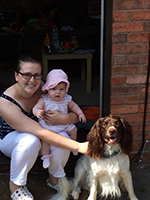 Deputy Nurse Manager and Senior Clinical Coach
BSc RVN
I became a nurse as loved working with animals from young age. My parents used to say I got on better with animals than humans! After my A levels I decided to do BSc Hons Degree in Veterinary Nursing.
I love working at Broad Lane Vets as all the staff work 100% towards the best care and treatment of your pets. We work great as a team, and always try our hardest for each animal.
I have springer spaniel called Dodger, and two rescue cats Dee-Dee and Digby (who was a stray kitten rescued by staff at Broad Lane).
I now work part-time and spend most of my time away from work with my daughter enjoying days out with my dog. When I have 5 minutes to sit down a good book is always nice!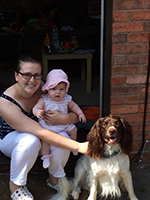 Karina Horton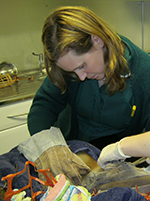 Deputy Nurse Manager
RVN PHC
I joined Broad Lane Vets straight from school, heading to college to complete my Veterinary Nurse training, and am another member of the team who has been here for many years!
I work part-time now as I have a young family, and along with loving my general nursing I have an interest in stock management.
I love meeting you and your pets during my weekly clinics, and am always on-hand for any help or advice you may need.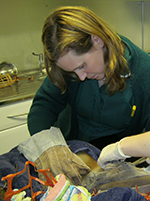 Emma Cotterill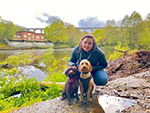 Veterinary Nurse and Clinical Coach
BSc (Hons) RVN
All I remember from I was little, is my wanting to work with animals. I chose Veterinary Nursing as it challenges me in so many ways. I particularly enjoy medical nursing and rehabilitation. I qualified in 2015, after completing my BSc (Hons) Degree in Veterinary Nursing.
I have two very cheeky, and sometimes naughty, Cockapoos.
My days off will find mw walking in the countryside, and exploring new places. If I'm not local, I will be travelling and exploring the world.
Broad Lane Vets offered me a busy and challenging work environment, where I can be pushed to achieve the best. It is a lovely independent local business that strives for excellent patient care, ad a great team that all have the same ethos.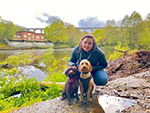 Toni Sinclair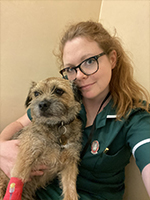 Veterinary Nurse and Clinical Coach
RVN
I have always been drawn to animals big and small, fury or scaley, or those who can fly. For this reason, I knew I had to pursue a career in Veterinary medicine, as I naturally have a passion in animal welfare and care.
I am the lucky keeper of my beloved terrier, Ned and my rescue Persian cat, Agnes.
My animals keep me busy, but when I have time, I love to draw, read and go on adventures with Ned, hiking up a mountain or climbing to a waterfall.
Broad Lane was my childhood Vets, and I'd always hoped I'd find myself lucky enough to work here one day.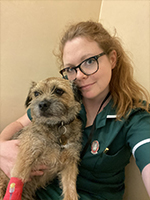 Thomas Lightfoot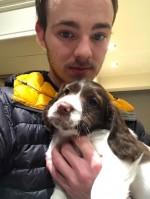 Veterinary Nurse and Clinical Coach
RVN
I have always had a passion for animals, and the wish to work with them. I returned to college to study animal welfare, after a career as a chef. I carried out a series of work placements at Broad Lane, and was offered a student nurse training position following completion of my college course.
I share my home with 2 dogs, 3 corn snakes, 2 Leopard Gecko lizards, a Bearded Dragon and a Grey Tree Frog.  My spare time is taken up caring for my animal family.
Broad Lane came highly recommended by a friend. It is a great place to work with its friendly atmosphere and a dedicated work ethic.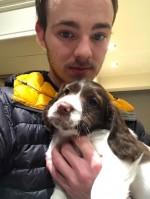 Sophie Delaney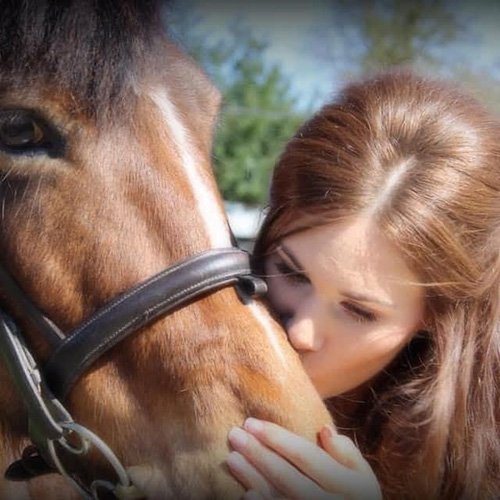 Veterinary Nurse and Clinical Coach
RVN
From a young age I was lucky enough to be surrounded by many pets and this is where my love for animals started. It became a passion from visits to the pet shop, volunteering at a local stables to working as a dog groomer then finally my desire to help animals lead me to my career in veterinary nursing.
Pets: I have 2 cats (Binx and Nala),1 dog Jack chi (Betsy), 1 horse (blossom) and an Axolotl called Loti.
My hobbies include horse riding, dog walks , enjoying my young family and eating cake with friends.
Broad lane vets has a lovely friendly relax feel , with pets at the heart of the business.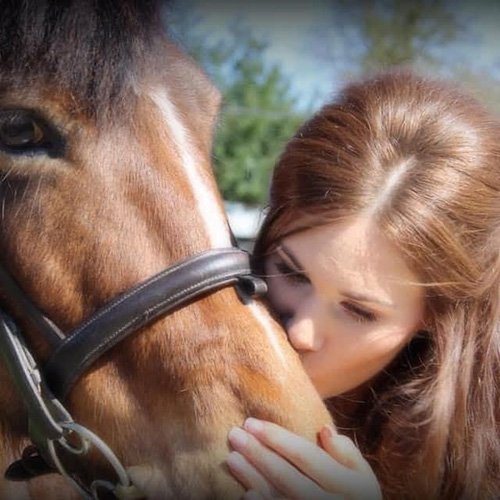 Sarah Kelly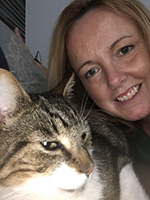 Veterinary Nurse
RVN PHC
I began my working life here, at Broad Lane Vets, after leaving school at 16 and still work full time. Like Lisa, I have never worked anywhere else! I began on a YTS scheme (yes a certain generation will remember them!) and progressed to qualify as a registered veterinary nurse. I now work as a head nurse but am still very clinical within the practice. I love meeting you with your pets, particularly during my consulting sessions and at our popular puppy parties.
I have 2 cats 'Sasha' and 'Fergal' both rescues from the Cats Protection, adopted through strays brought into the surgery.
I love working in such a friendly environment, with great colleagues. I have a rewarding career, doing a job that I still enjoy.
I do enjoy walking in my spare time as well as socialising with family and friends.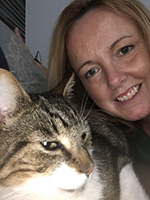 Sarah Richards
Veterinary Nurse
RVN
I have worked at Broad Lane Vets as a registered Veterinary Nurse since 2000. I am rather camera shy and like to hide from my adoring public.
I particularly enjoy working in the practice laboratory, and can usually be found undertaking stock management.
In my spare time I love walking in the countryside, and baking and decorating cakes.
Hayley Carroll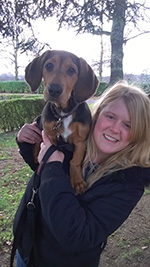 Veterinary Nurse
RVN
I've always wanted to work with animals since a young age so here I am. Since qualifying as a registered veterinary nurse I am enjoying the challenges this brings.
I have two dogs, called Ripley and Shula. In my spare time I enjoy spending time with my pets, dog training and cycling.
I enjoy being able to help animals and owners, and I love working with my colleagues at Broad Lane.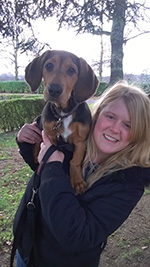 Natasha White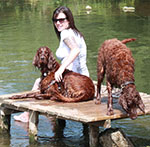 Veterinary Nurse
FdSc RVN
I qualified as an RVN in 2005. I decided to become a VN due to my love of animals especially dogs and cats. I grew up with Irish setters, and they remain my best friends still today... I currently am owned by 4!
My parents always used Broad Lane Vets with our pets and it left a great impression on me and I was given the opportunity to work there to carry out my veterinary nursing training in 2003. I left in 2008 to work for Guide Dogs but returned in 2011 to work Sundays. Why? Because I love the practice and the staff.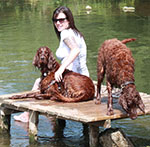 Heather Ferns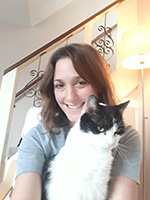 Veterinary Nurse
RVN
I've had an affinity with animals since I was a small girl; the injured animal always came home with me. It just felt natural to become a veterinary nurse.
At home I have a rescue cat 'Tux', who had been living as a stray for 3 years. Now he lives on our bed!
I work at Broad Lane part-time, having a young daughter at home who keeps me busy. Any spare time I have involves running, cooking and family days out.
I chose to work at Broad Lane Vets because they showed me they were a supportive and caring team. I love that the management are keen for you to pursue your special interests, and develop them to the benefit of our patients.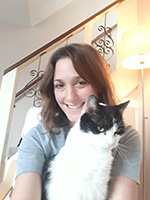 Sarah Freeman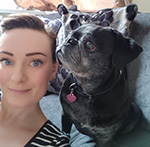 Veterinary Nurse
RVN
I love being around, and working with animals. I find it so rewarding.
I have several pets: a pony named Willow, a cheeky pug called Poppy, Molly a furry feline and lots of tropical fish.
I love the great outdoors. I enjoy spending time with my family, including camping, riding and walking Poppy. Tropical fish is my latest passion.
I work part-time at Broad Lane Vets. Having previously worked for corporate practice I am enjoying settling into this friendly, privately run practice.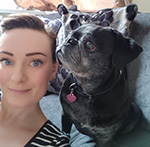 Poppy Carroll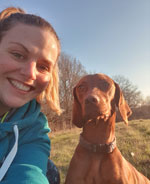 Veterinary Nurse
RVN
I have always had a passion for animals, caring for many of my own dogs, cats rabbits and guinea pigs from a young age. I started to work with horses throughout my school education and realised I was fascinated by the medical aspect of their care and knew I wanted to turn my passion into a career. I went to Moreton Morrell College and studied to be a veterinary nurse, qualifying in 2013 and have never looked back.
As most veterinary nurses seem to own, I am the owner of a hand reared cat, he is a very big fluffy guy who is very naughty but has made me a much braver nurse! We also have a dog who joined our family in 2019.
When I am at work I have a passion for physiotherapy and rehabilitation. I really enjoy seeing good results and knowing that I have helped with getting them back on their feet. At home I love spending time outdoors with my family and walking the dog. I enjoy playing hockey and watching the rugby!
Since returning back from Maternity leave I was looking for somewhere that offered a good work life balance and Broad Lane offered exactly that. They offer excellent animal care and have a huge team who clearly all work so well together.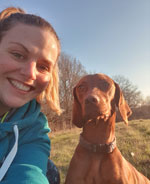 Abbi Price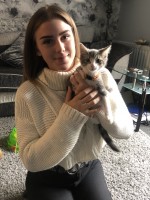 Veterinary Nurse
BSc (Hons) RVN
My passion for animals and love of science meant there was only one career path for me.
I have 4 cats of my own, 3 of which are rescues.
In my spare time I enjoy socialising, whether this be with friends or family. I also enjoy helping my partner with his business.
I first came to Broad Lane Vets at the age of 16 on work experience. My first look into the industry was so positive that I came back for more experience during my years at college. When I started university and needed somewhere to go for a yearlong placement, I couldn't think of anywhere better to go!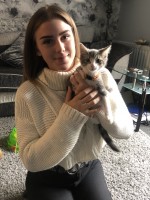 Alice Young
Veterinary Nurse
RVN
After researching veterinary nursing I knew it was my dream job. I grew up with many pets. Back home in Essex my parents have my Great Dane and Lurcher. I hope for Molly to join me soon.
In my spare time I enjoy Karate and love to compete in Kumite fighting. With my Essex club I have competed nationally and internationally. If not training I can be found out with friends or walking my dogs.
I am fairly new to the area and the welcome I received by the Broad Lane team on my trial day meant I looked nowhere else. I love working here and am now cracking on with my training, with great support, to qualify as an RVN.
Lucy Pavitt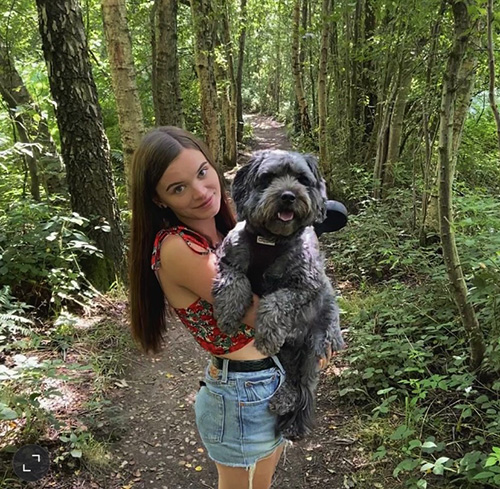 Veterinary Nurse
RVN
I have always enjoyed being in the company of animals and since becoming an RVN I have never looked back. I love meeting new animals and clients everyday, I particularly enjoy nurse clinics!
I have a 7 year old Cavapoo called Odie who means everything to me and is a big reason as to why I'm an RVN today.
Outside of work I enjoy travelling, going to the gym and watching sport such as Rugby and American Football.
Growing up I have always had a good experience when taking my pets to Broad Lane and hoped to work there one day myself!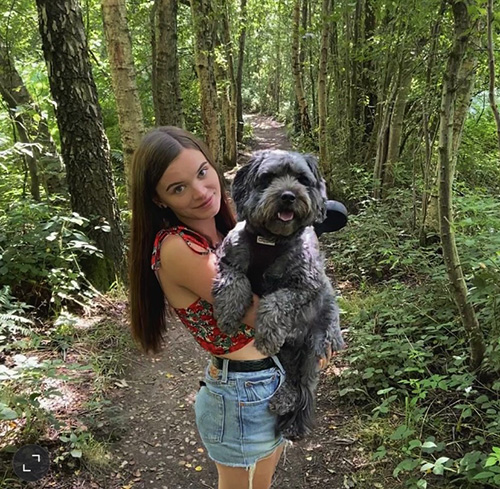 Kayleigh Gower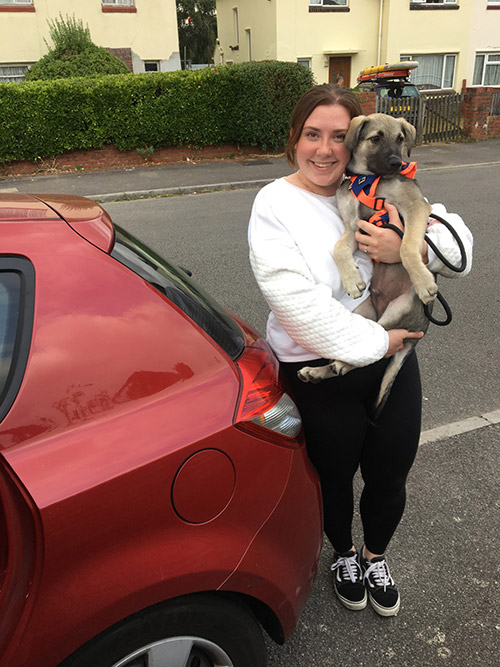 Veterinary Nurse
RVN
I have grown up always knowing I would work with animals in some way. They have always been deeply integrated into my life. I have owned and cared for all sorts of animals, from rats to horses. When I discovered my love for medicine and healthcare it made sense to pursue a career in Veterinary Nursing.
I have a large mixed rescue dog, Ramsey, and 2 rabbits, Cleo and Nigel. The rabbits are a bonded (married) couple that are very much in love with each other.
In the little free time, outside of being a mum of 2 small children, I love to bake. I have had my fair share of 'Bake off' disasters. However, when I nail down a recipe it's very rewarding to share my triumphs.
Broad Lane has a great reputation and I've had my eye on opportunities here for a while. I was nervous starting a new job post maternity leave but everyone at Broad Lane Vets was so welcoming and friendly. I am now looking forward to getting to know them all better and becoming part of the team.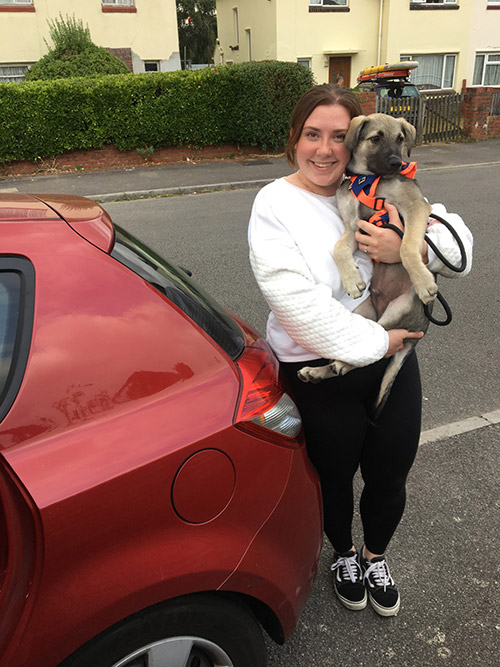 Support Team
Lisa Madden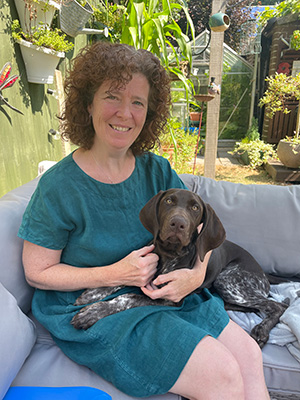 Practice Manager
RVN PHC
Many years ago (no I'm not telling you how many) I did my Duke of Edinburgh Award service section at Broad Lane. I continued volunteering and have been here ever since! I progressed from a student nurse to a Head Nurse, and on to become Practice Manager.
We have a fantastic team at Broad Lane and being an independent practice the atmosphere offers a great place to work and develop. We have so many lovely clients, and meeting them with their pets guarantees no day is ever the same.
Outside of work I am busy with my family (human and canine). I love needlecrafts, reading and my garden! As a family we enjoy travelling and spending time in the great outdoors. We are addicted to American Football; with all our children playing competitively across the UK and abroad.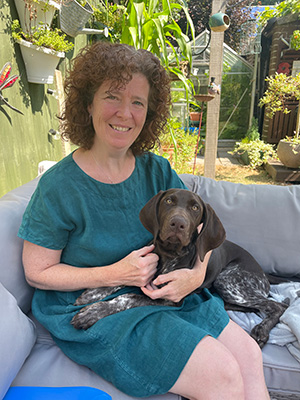 Dawn Whitehead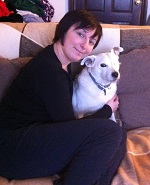 Administrator
RVN
Since an early age I have always had a keen interest in caring for animals. After realising becoming a famous show-jumper was a little unrealistic! I settled with the idea of becoming a Veterinary Nurse and have never looked back!
I currently have 2 cheeky Jack Russells, Sally & Ruby, and enjoy looking after my sister's pony, Izzi. However I hope to find a new pony of my own to love in the not too distant future.
My hobbies involve enjoying the outdoors as much as possible - from walking to spending time at the stables. I also attend the odd gym class.
There is nowhere quite like Broad Lane. After a 'sabbatical' for two years and exploring different ventures, I have realised nowhere lives up to the great care and compassion Broad Lane give. The family vibe is a special gift, that has never faultered over many years, and I thoroughly enjoy being back with the team.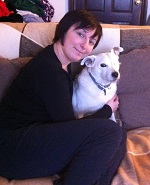 Susan Walsh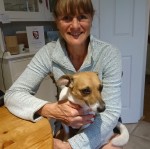 Administrator
I have always been interested in animals and spent many years working with horses before starting work at Broad Lane in 2011, as a receptionist. Nearly 8 years later I am still here, now working as a part-time Administrator. I really enjoy working here as every day is different and I work with such a great bunch of people – I have never worked anywhere with so many staff and yet such a good atmosphere – a real team!
I have two Jack Russells, Poppy and Paxo, who keep me busy with walks and I also enjoy gardening, playing tennis, and riding as well as watching cricket and rugby.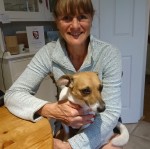 Mandy Lewis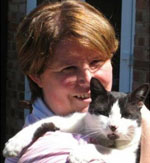 Admin Assistant
I first joined the team over 20 years ago. I started off doing work experience and worked my way up to become a Registered Veterinary Nurse. After 10 years with the practice I left to pursue other things, but I have now returned to the team as an Admin Assistant. The practice has grown considerably over the years but still maintains its friendly, family orientated feel, and has a great team of staff to work alongside.
I have always loved animals and have 2 cats and 2 Cairn Terriers at home.
I enjoy walking with the dogs, and watching them run around the fields off their leads. I also enjoy reading crime thrillers, watching football/rugby, eating out and playing bingo!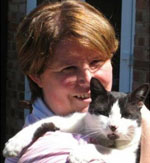 Reception Team
Kirsten Evans
Head Receptionist
I have always loved being in the company of animals, they give so much and become such an important part of your family. Me and my sisters were lucky to have been brought up always having a variety of pets around us growing up from fish, rodents, reptiles, dogs and eventually horses. Once I was old enough I bought an Arab cross cob bay gelding called Treason, and my parents joined me and rescued a Welsh cob mare called Anna. As soon as I was able to push a wheelbarrow I was doing weekend work at a local riding school, working for rides and having some of the most amazing life experiences and adventures. Since then I have always had the dream that one day I would walk within the animal world. Having my own little girl, I realised that I am always saying to her to follow her dreams and that anything is possible! I thought it was about time I took my own advice.
Our family is made complete with our Cavalier King Charles spaniel Burt, a hamster called Bruce and a variety of fish. I also still have my much loved horse Treason, who is now looked after mostly by my mum, and having fun with all the children learning to ride on him.
I love to spend time with my family, bring outdoors, walking, riding and exploring new places. Making up stories and having adventures with my daughter.
Broad Lane Vets is a well-established, family run business within walking distance from my house. Where I have found and have been able to become part of an amazing team of like-minded individuals who show dedication, care and compassion every day for all animals and their human family members.
Terry Jardine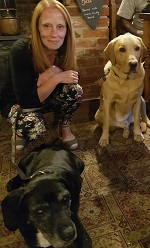 Receptionist
I love animals so working with them is perfect. I enjoy meeting clients and their pets, and helping them as much as I can.
Marley is my crazy rescue dog who I adore and makes me laugh with his silly antics. I love to go on long walks and discovering new places.
Broad Lane is a local family business, with a great reputation. I have grown up knowing about this practice, and am now proud to be a part of the team.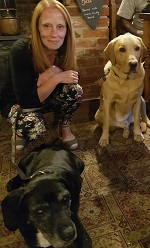 Heidi Clifton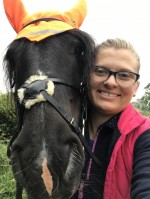 Receptionist
C-SQP, A-SQP
Hi I'm Heidi and I work at Broad Lane as an Auxillary Nurse and SQP. I have a Bearded Dragon, Merlin, and Archimedes, a Chinese Water Dragon. Merlin enjoys running around the house chasing after the cat, whereas Archimedes prefers to spend his days on the top of my curtains keeping watch. My mum doesn't enjoy having them in the house because of the 100+ locust I have to buy every other week. I couldn't imagine life without my lizards. I've recently gained another slightly larger pet. He's a horse called Merlin!
I love meeting our wonderful clients, with their pets, and am often found on reception. I have a particular interest in pharmacy and am currently undertaking my avian SQP training.
Heidi has recently achieved her Cat Friendly Receptionist Award.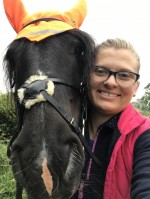 Christine Lowe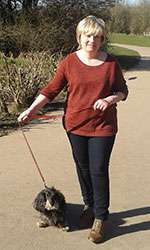 SQP
Receptionist
I have been a receptionist at Broad Lane now for many years. I joined the team after a career as a nurse in the NHS. I have completed an NVQ level 2 in customer care and more recently my SQP training. There is never a dull moment on Broad Lane's reception. Each day is so different and challenging. I can be found armed with schmackos, my secret weapon in making friends with all your dogs!
As a cat owner I am proud of our Cat Friendly status, and our popular cat only clinics that we hold on a Wednesday at our main surgery in Broad Lane.
I have a menagerie of pets at home with cats, rabbits and a cheeky dachshund called Cassie.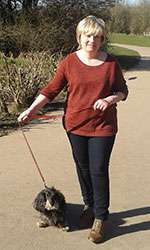 Andrea Wolstencroft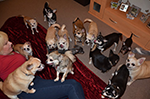 Receptionist
I enjoy working with people and love animals so working for BL made sense, and is just like one big family. You will usually meet me at our Radford Road Surgery.
Outside work, I enjoy dog grooming and am owned by lots of four legged, and some feathered, friends - Never a dull moment.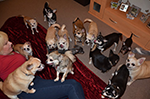 Jennie West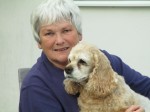 Receptionist
I have always had a passion for animals from a very early age, competing with my ponies, horses and my lovely dogs.
I moved to Broad Lane from Village Vets, having previously worked for Liz and John Pierce, in Balsall Common since 1992. I now work as a receptionist at the Balsall Common surgery. Elly and the team have been so welcoming and supportive during the transition.
My hobbies include gardening and walking with my cocker spaniel, Amy. I am also a qualified Kennel Club Judge breed specialist in English and American cocker spaniels and hold an Animal College Judges' Diploma.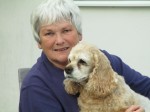 Kyleigh Norman
Receptionist
Being a Veterinary Receptionist fulfils the animal lover in me. It gives me joy daily. Even on difficult days a quick puppy or kitten cuddle makes all the difference.
I have a bull sausage (Dachshund cross English Bull Terrier) – He is the love of my life!
Away from the practice I enjoy spending time with my dog, reading, music (a Lady Gaga fan!), painting and dancing.
Broad Lane is such a caring and friendly team to be part of. They are passionate about their jobs, going the extra mile for their clients and their pets.
Kirstie Hodgkins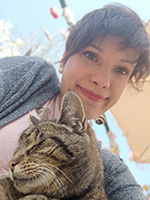 Receptionist
Ever since I was small my life often revolved around animals. After a degree in illustration (often always drawing them) I worked a career in optical surgery. From there I moved to Broad Lane Vets and have never looked back.
At home I have an elderly tabby cat called Lady who is my entire world. I also enjoy swimming, working on illustrations inspired by all the animals I meet and baking!
Broad Lane is an exceptional place filled with kind, compassionate and dedicated people.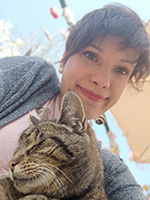 Kaycey Grayson-Smith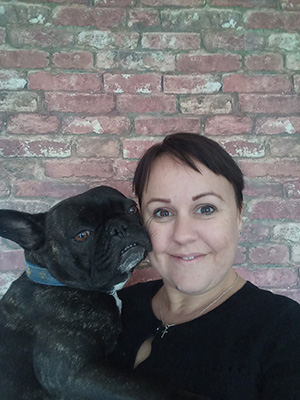 Receptionist
I have been a dog groomer since 2018 so I have gained great experience working with and handling all kinds of dogs. I have learnt about different breeds and temperaments.
I wanted to work for Broad Lane Vets as it is a family run business and not a corporate chain, so it has a personable approach to animal care. I know this as I have six fur babies of my own, four dogs and two cats, that I bring here and have found the staff to be kind and welcoming.
In my spare time (as well as my all my pets) I take care of my Nanny as well as spending time with Niece and my two nephews.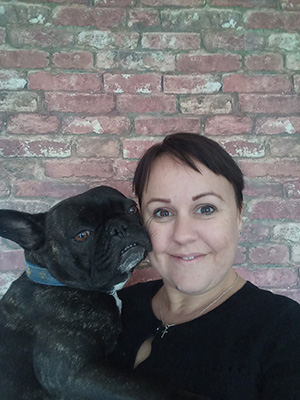 Nienna Murphy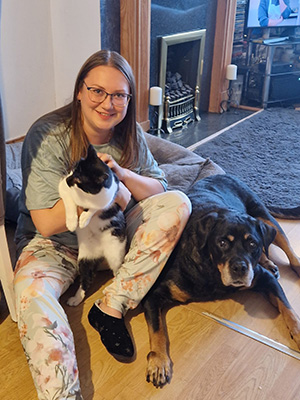 Receptionist
I have grown up around animals, my family having cats, dogs, mice, chickens, birds and horses. I love seeing their individual personalities coming through. My husband and I currently share our home with a Rottweiler called Bonnie, who loves napping, and a black and white cat called Sookie, who loves spending sunny days under a bush in our garden. We also have regular with our canine cousin, Freddie.
In my spare time I like reading, with a love of fantasy and history. Trips with my loved ones and visiting new places give me great enjoyment.
My family use Broad Lane Vets, and have always said how friendly and caring the staff are to pets and their humans. This definitely translates to the team behind the scenes as well, going the extra mile to help in any way they can.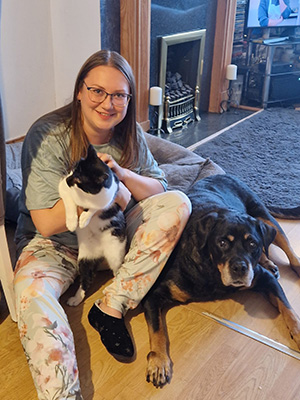 Natalie Butler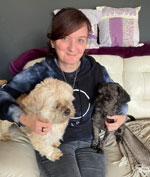 Receptionist and Admin Assistant
Ever since a child I have loved animals, and had many pets through my life. I love caring for them and their interactions. I can think of nothing better than developing this into a career I am passionate about.
I share my home with 2 playful dogs, Marley and Lulu, a Lhasa Apso and a Shih Tzu. Two lovebirds complete the family.
My hobbies include reading, walking with my dogs, ice-skating, music and watching films. My interests are focused on computing, alongside learning languages and foreign travel.
I was introduced to Broad Lane by a family member, and after learning more about the practice, I got in touch at just the right time. I love how dedicated everyone at Broad Lane is. They care so much about every pet, and I knew I would fit in well.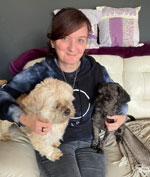 Laura Beech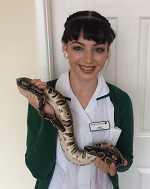 Student Veterinary Nurse
I have always pursued animal related interests. I completed an animal science course post-16, and realised in a veterinary career was where I wanted to be.
I own a corn snake and a royal python.
I enjoy spending time outdoors: camping and walking. I love reading, and pet sitting for my friends. And as you may guess by my pets I have an interest in reptiles!
I chose to work at Broad Lane as it has a great local reputation. With great family values, it is proving a friendly place to work.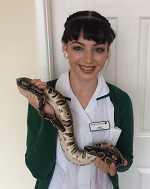 Laura Jeynes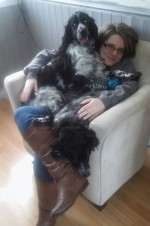 Student Veterinary Nurse
I love animals so a veterinary career was the answer. Growing up Steve Irwin and David Attenborough were my idols. This combination led me to study Animal Behaviour and Welfare. During my university studies I realised I had a keen interest in the medical side of animal care and their husbandry.
I have two dogs, Harley and Bruce. Harley is an intelligent Brittany Spaniel, and Bruce, a loveable, boisterous Cocker Spaniel.
I am an avid reader, enjoying fiction and non-fiction. I love spending time with my family and friends, especially over a cup of coffee or going on a day trip somewhere exciting.
I have previously worked in a veterinary out of hours. Speaking to people who came in they had only good things to say about Broad Lane, and the team. Once a position became available I applied, and my journey to train as a veterinary nurse began.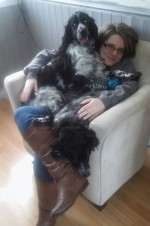 Chloe Rogers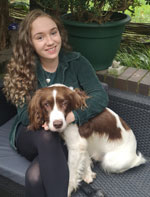 Student Veterinary Nurse
My love of animals has stayed with me since my early school days, when I Looked after guinea pigs, fish and the Springs's tadpoles and frogs. My love of science, volunteering with animal charities and work experience in a veterinary practice gave me a good insight into the world I wanted to join. Veterinary care was the right career path for me, and I set about becoming a veterinary nurse.
Finally, I have enough time to dedicate to a new family member; A goofy springer spaniel named Ridgeway.
I love being outdoors, either exploring new areas or 'on the water'. The rest of my time is usually spent in the company of good friends and family.
Numerous people pointed me in the direction of Broad Lane Vets when furthering my career. Friends who were clients told me of their helpfulness, understanding and the empathy they showed to pets and their owners. After working here I definitely agree. Everyone is welcoming, friendly and genuinely cares about each pet, their humans and each other.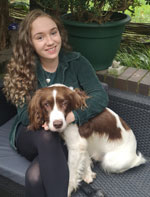 Danielle Coombe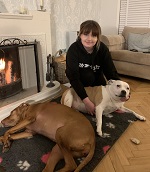 Student Veterinary Nurse
I have always had pets, and I love taking care of them.
At home I have a cat called Jawa.
Outside of work I love exploring new places. Time with family and friends is also important to me.
Broad Lane is a lovely place to work, filled with kind and caring people.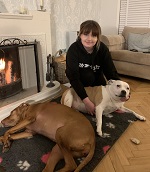 Kirsty Hunter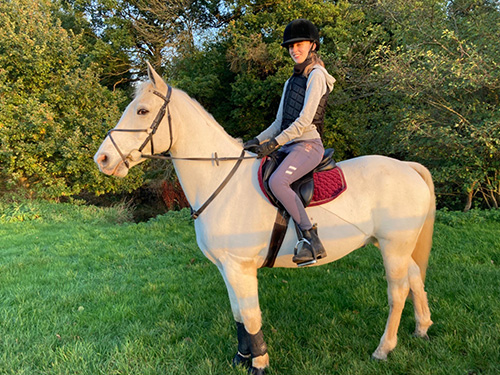 Student Veterinary Nurse
Through starting an apprenticeship with a mobile Vet service based in Warwick and really enjoying it. During this apprenticeship, I worked out that I wanted to have a Veterinary career as a VCA or Vet Nurse in the future.
Cavalier King Charles called Bella who doesn't act like she's nearly 12.
Horse riding – try to ride at least once a week volunteering with Riding for the Disabled on a Saturday, most weeks.
Photography – Mainly animals , wildlife and landscapes.
Staff all seemed very warm and welcoming during interviewing and could offer a lot more experience with things the mobile Vet couldn't offer, such as more clinical work with patients.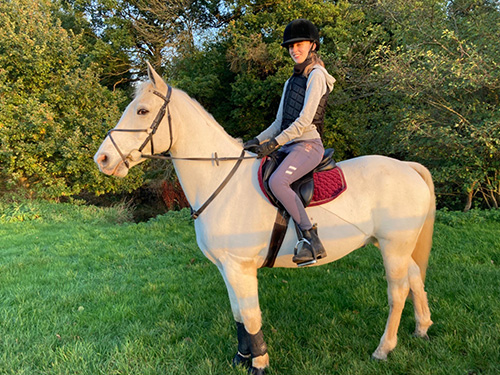 Harry Moore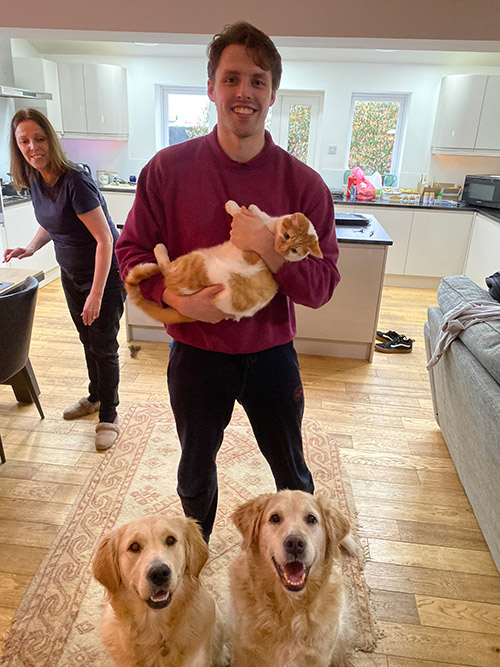 Veterinary Care Assistant
Since I was young I have always wanted to work in the animal care industry, and I have done just that. Before joining Broad Lane Vets I was an ACA at the RSPCA and have worked as a kennel hand at various boarding kennels.
Since starting at Broad Lane I have been amazed by how kind and supportive all the staff are, along with their high level of professionalism and care in regard to patients.
I have 2 Golden retrievers (Larry and Ella) and a naughty cat called Bob.
In my personal time I enjoy practicing MMA and regularly attending the gym, as well as building and painting model tanks.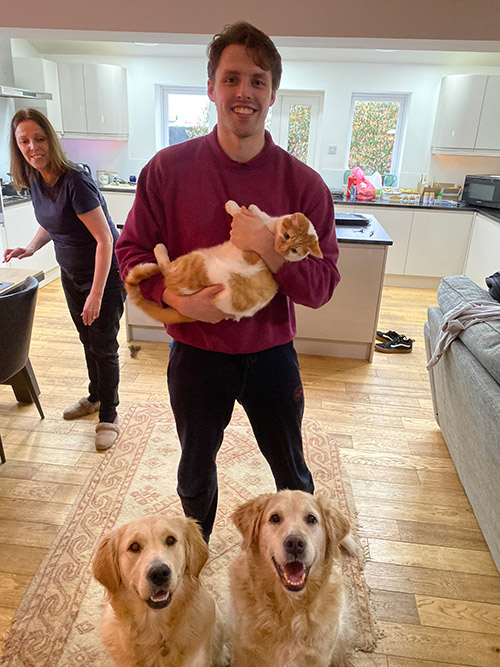 Rose Iremonger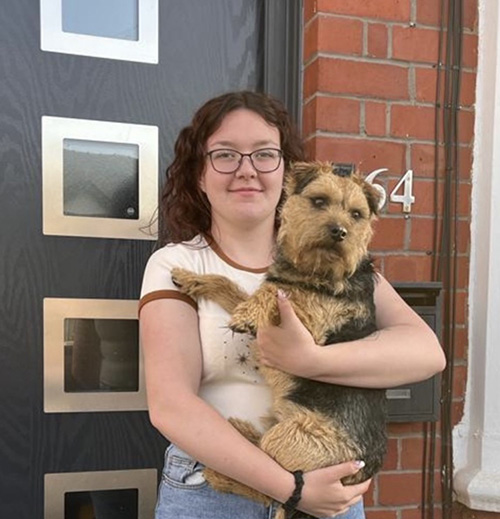 Veterinary Care Assistant
I chose a veterinary career due to growing up with various animals, and always wanting to find a way to help them if they were injured. I have been known as long as I can remember as the animal crazy girl. Seeing an animal out I try to befriend it, so a veterinary job is perfect for me.
At home I have a little rescue called Jesse who was taken to foster during Lockdown. We fell in love with him and he has never left.
I am a horse rider. I used to own my own horse and loved to go show jumping at the weekends. Due to moving away to college I had to sell her, but I still keep up with my horse riding going for lessons whenever I can.
I chose Broad Lane as after getting Jesse. We joined the practice as pet owners and we have always had the friendliest welcome from all the staff. I am now part of the team enjoying helping our clients and putting a smile on their faces.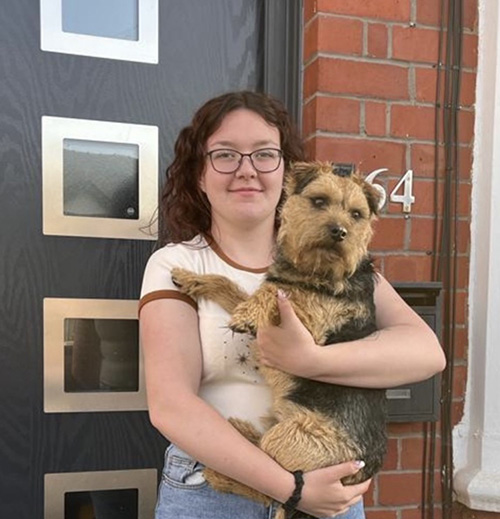 Blayne Coombes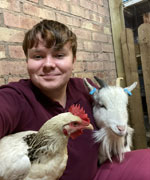 Part Time Animal Care Assistant
I chose to pursue career in a veterinary practice due to my eternal love of animals!
I have a keen interest in all animals but especially birds! I have a cocker spaniel called Harley, a black cat called Beauty, bill the guinea pig, Shelley and Sheldon the tortoises and two goldfish as well as around 75 birds of all different species! 
Most of my spare time is devoted to my birds. I breed mainly finches, canaries and budgies, and so I spend as much time as I can down the bird room. Broad Lane has always been somewhere I have wanted to work. When bringing my animals, I got a family feel and noted the closeness between staff. This is something that really appealed to me!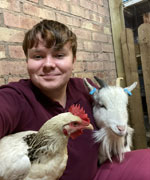 Sam Evans
Receptionist
I always wanted a job where I could be part of caring for/helping animals. A Veterinary career is the ideal path for me as I get to fulfil that dream as well as getting to interact with the families on a daily basis.
I have a dog called Alfie, Bagheera the cat and two snakes called Myra and Slithers.
I spend a lot of my time creating or playing music. If I'm not playing, then I am usually out or walks with Alfie or cuddling Bagheera while watching films.
The team here are all lovely and I love that it's a smaller practice, the team here truly care about the animals and their families, and I am so happy I can be a part of that.
Auxillary Team
Roger Barnes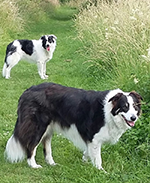 Mr Fix It and Senior Veterinary Auxiliary
When I left my previous job I was looking for a complete change. Our family have always had many different pets, so animal care has been a normal thing for me to do. When the opportunity came up for me to work with the staff at Broad Lane, and learn new skills, it was an opportunity not to be missed.
We have had many different kinds of pets over the years, but at the moment we have two Border Collies, a rescue cat and some pond fish.
Away from work I spend my time walking our dogs, socialising with friends and working my way down the ever increasing list of D.I.Y projects.
I have been taking my animals to Broad Lane for many years, and have always considered them to be one of the best vets to use. Now being part of the team I can see why! They are a team of very skilled and professional people who are dedicated to the animals in their care.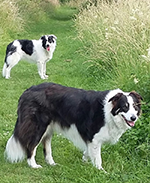 Mandy Grainger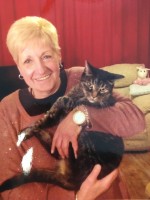 Veterinary Auxiliary
I got into a veterinary career by chance, being offered an auxillary job in a veterinary practice. The best change of job I have made.
I have a rescue tabby cat called Ninja, who only has three legs, but is amazing with a very quirky personality.
There are many things in enjoy doing in my spare time including going to; festivals, the cinema, rock concerts and socialising with friends amongst them.
I had only heard good things about Broad Lane Vets, so when I was offered the job I instantly took it.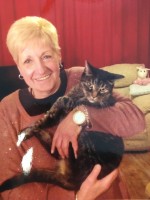 Luke Madden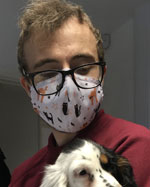 Veterinary Auxiliary
I've been in and out of Broad Lane Vets most of my life, with my mum working here.
Family pets have included dogs, cats and guinea pigs.
In my spare time I play American Flag Football, and enjoy gaming. I am currently at university studying early years, with plans to become a primary school teacher.
I joined the Broad Lane team at the start of the Covid pandemic, to assist the team. I work alongside the vets and nurses to help them, whilst we are unable to bring owners into the building. This role runs alongside my studies.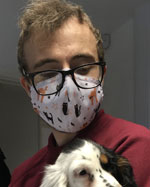 "The service could not have been better"
"Broad Lane Vets are amazing"
"We highly recommend the surgery"
"They are honestly wonderful here"
"We cannot rate this practice highly enough"